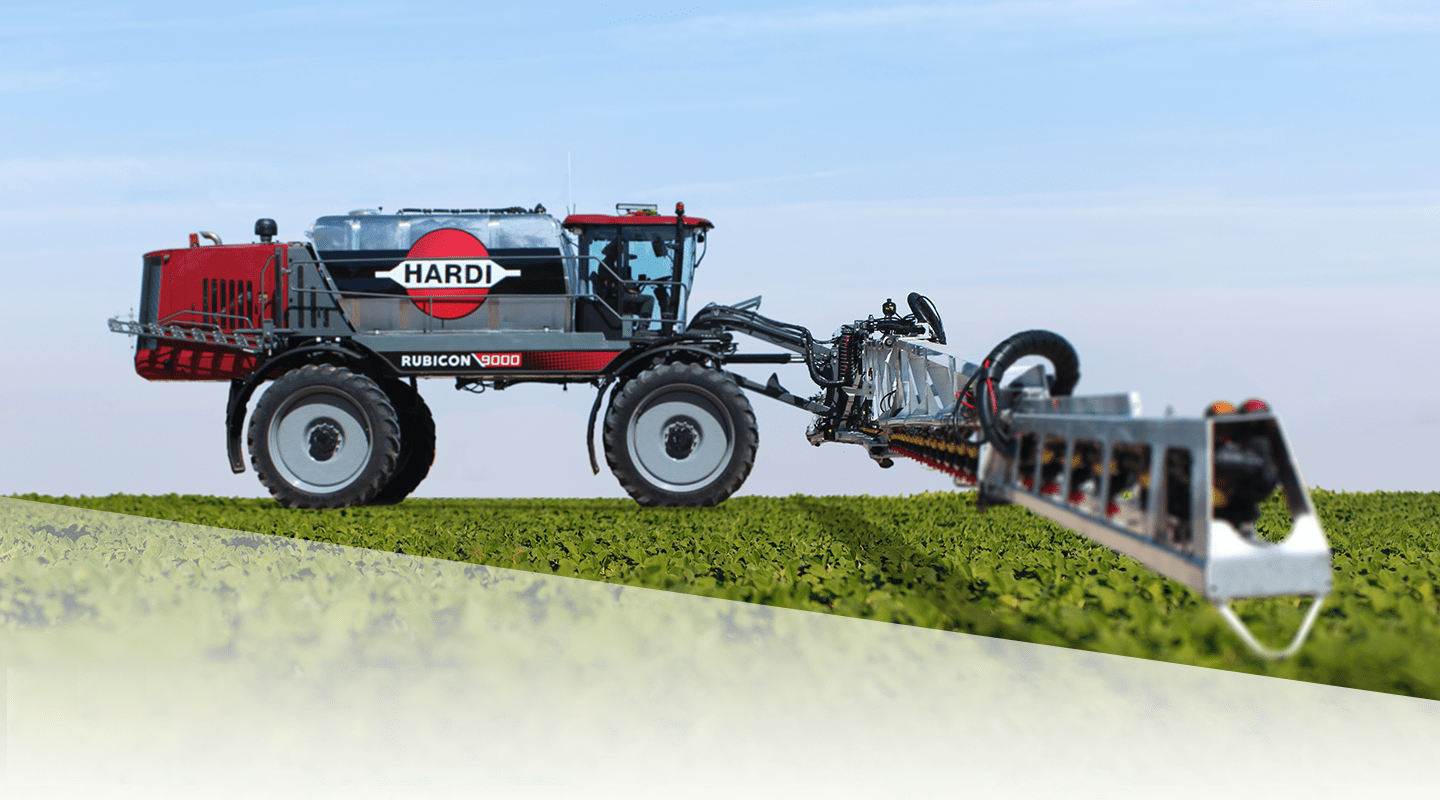 RUBICON
Tank Capacity
6500 - 9000 l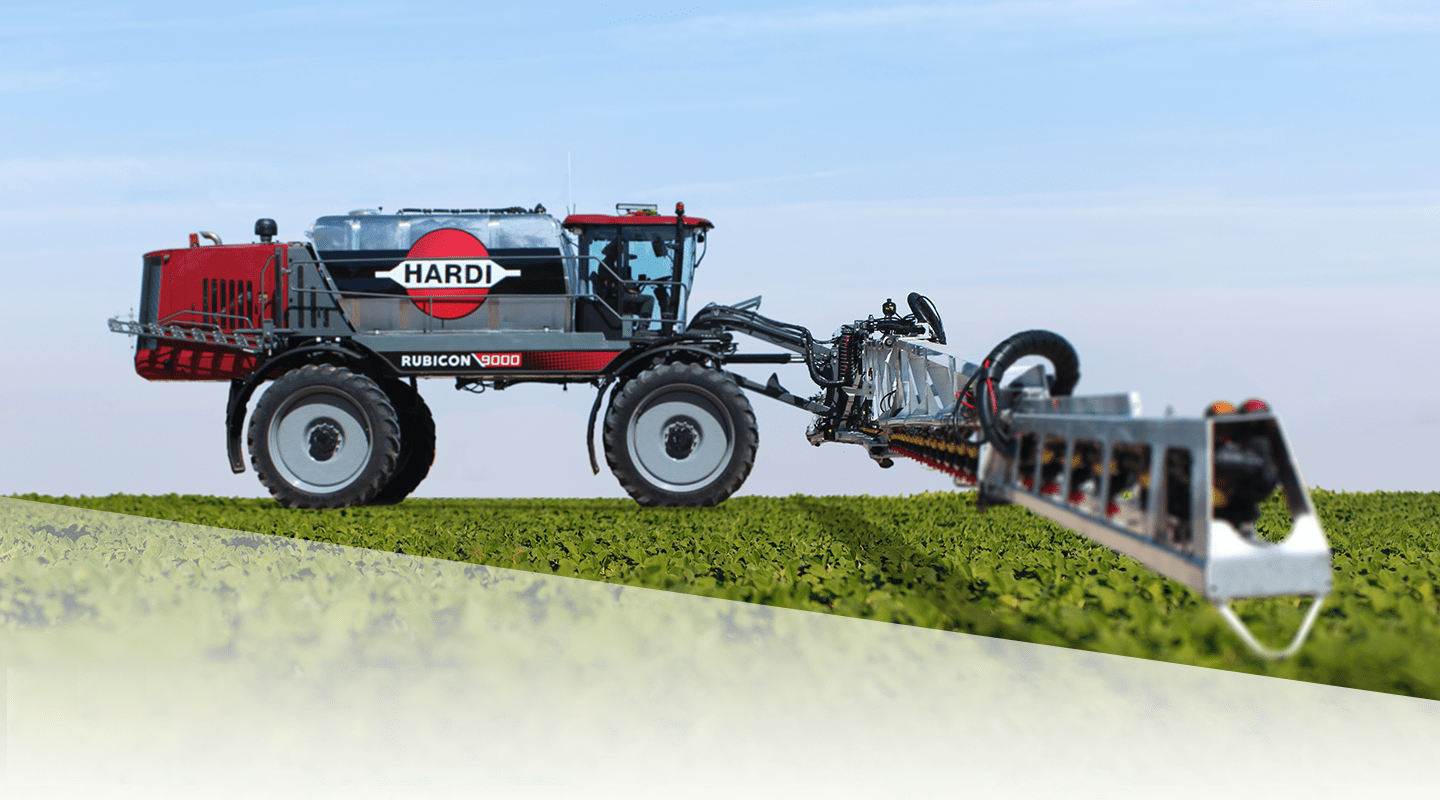 Tank Capacity
6500 - 9000 l
RUBICON – Innovation and evolution
The RUBICON establishes a new class in self-propelled sprayers. Designed to meet the productivity demands of large scale farmers, the seamless integration of capacity and ease of operation delivers hectare-eating performance to conquer everyday spraying tasks with ease.
The RUBICON 9000 takes efficiency and productivity to a whole new level. Increased tank capacity not only improves productivity, but the timeliness of applications as well. Time and timing can both be critical factors for spraying, especially on large paddocks. RUBICON's class-leading capacity reduces travelling and filling down-time, so you can keep spraying and finish sooner.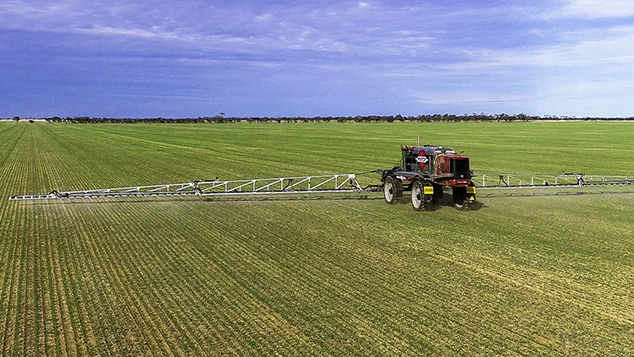 1000 Hectares Per Day
RUBICON has the power, torque, tank and fuel capacity to work effortlessly all day. The 48.5 m HARDI PARAGON AL boom represents a 35% increase in work rate over a comparable 36 m boom. Superior boom height management, including AutoHeight and Auto Terrain, keeps the nozzles at their optimum spray height across the full width of the boom and a wider range of operating conditions. Working together, these features allow RUBICON to spray at up to 35 km/h and achieve a work rate of 170 ha/hr - comfortably covering over 1,000 hectares per day.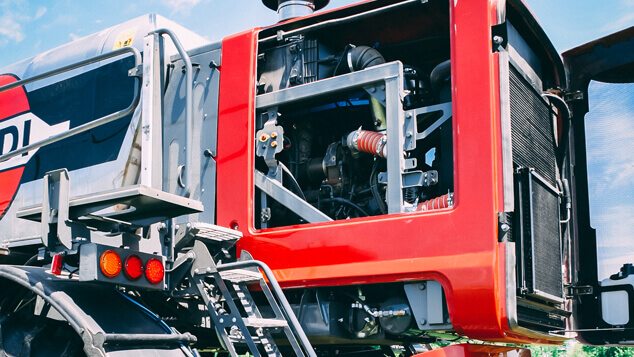 Engine Power
RUBICON is powered by Cummins - the most advanced engine technology to deliver power and reliability when you need it. Cummins engines run quieter, burn leaner and cleaner, and they are the industry leader in providing power to hydrostatic transmissions. The Cummins® 8.9L QSL 9 Tier 3A engine delivers up to 370 Hp (276 kW) and features fully Integrated Electronic Controls, providing seamless integration of all components to optimize engine performance.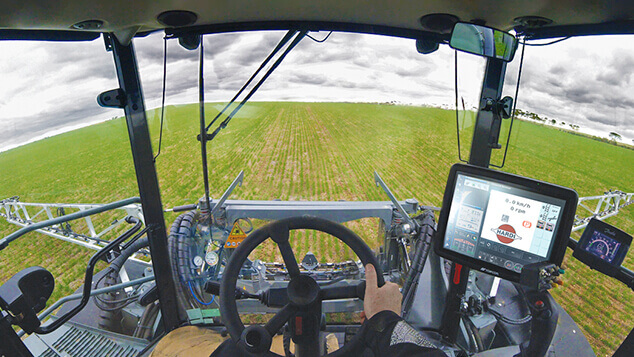 A Commanding View
A better view of the boom from the cab not only contributes to comfort, but to the quality of the productivity. The operator has a commanding view over the boom from the driver's seat which makes spraying easier and safer. The RUBICON cab is a special workplace and every detail counts - including the synchronised movement of the arm rest console to provide improved ergonomics, the unsurpassed visibility of the boom, clean air, and responsible sound and vibration levels. With superior comfort and the best view in the business, RUBICON makes spraying enjoyable and efficient.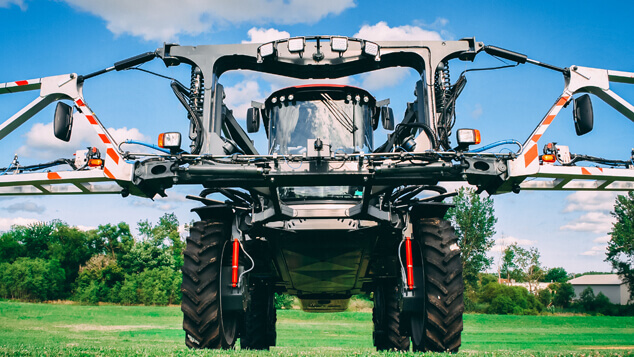 Boom Centre
RUBICON redefines boom stability: Revolutionary boom suspension system allows independent stiffness control settings on the springs and rams fixed to either side of the centre frame. The boom remains stable under the harshest operating conditions. The wide centre frame provides excellent on-road visibility. Spring tension holds the centre frame in the middle position while the hydraulic damper absorbs energy from the boom movement. A hydraulic actuator operated from the cab exerts more or less pressure on the spring to change the resistance.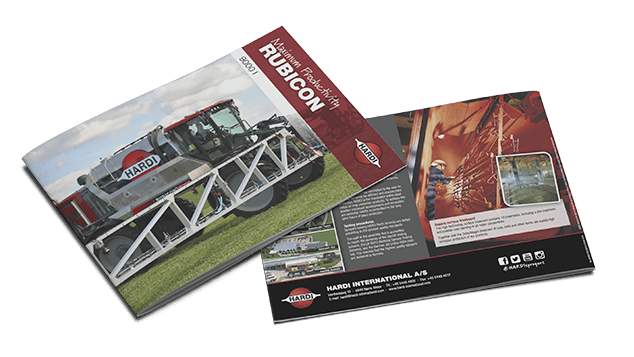 Get the RUBICON brochure
See all the information about the RUBICON including full specifications, in-depth information and much more!
Download your RUBICON brochure
Specifications
| Tank, litres | 6500 or 9000 |
| --- | --- |
| Pump, type | HARDI / Ace 650 L/min pump capacity |
| Booms, m | PARAGON Aluminium 36.5, 48.5 |
| Control Type | TOPCON X35 |
| Section distribution standard | All booms standard with 14 sections |
| Rinse tank, litres | 630 litres |
| Engine (9000) | Cummins QSL 9 Tier 3A 370 hp (276 kW) |
| Engine (6500) | Cummins Tier 3A 330 hp (246 kW) |
| Fuel Tank | 1000 litres |
| Transmission | Sauer-Danfoss H1 |
| Hydraulic oil | 200 litres |
| Syspension | OverRide Airbag + hydraulic Koni's |
| Steering | 2 wheel |
| Track width | 3 to 4 m hydraulic adjustment |
| Turning circle, m | 17.88 |
| Total length, m | 10.2 - 36 m boom, 12.3 - 48 m boom |
| Total height, m | 4.2 |
| Width with boom folded, m | 3.68 |
| Track width adjustment, m | 3 to 4 |
| Wheel base, m | 4.6 |
| Under axle clearance, m | 1.85 |
| Wheels / Tires | 480/70R54 (9000). 480/95/R54 (6500) |
| Brakes | 4 wheel dynamic |