Online Nozzle Store opens
19/02/2019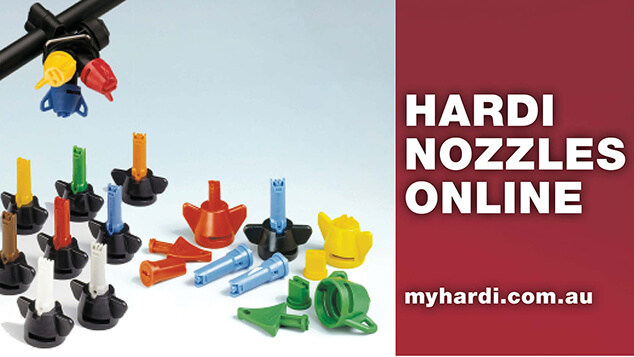 HARDI Nozzles now available online
HARDI Australia has just launched a new Online Nozzle Store, so farmers anywhere can take advantage of the company's nozzle expertise.
Initially, the Online Nozzle Store will offer HARDI's precision moulded and highly durable Flat Fan, LowDrift, MiniDrift and Injet nozzles in the full range of ISO sizes and all at RRP plus delivery.
ARDI Australia's National Sales Manager, Linden Forbes, said the Nozzle Store is designed to complement HARDI's experienced and knowledgeable dealers.
"Local expertise and guidance will still be the domain of our Dealers," he pointed out.
"The Online Nozzle Store is more about offering a convenient, 24/7 way for customers to purchase nozzles when they don't have time to leave their properties."
That will make a big difference in places like Western Australia, where the 'local' dealer can still be hours away from a large broadacre property, and the incremental cost of using worn nozzles can run to thousands of dollars in excess chemical use.
It's also a bonus for farmers who don't operate a HARDI sprayer, but recognise the benefits of HARDI Nozzles on other machines. After all, nozzles are crucial to any sprayer's performance, and HARDI nozzles will fit almost any sprayer.
As a dedicated sprayer specialist, HARDI has been studying and refining nozzles throughout its 60 year history.
We have dedicated test facilities in Europe where performance, droplet variance, air induction designs and even nozzle materials are constantly verified and improved, to offer farmers the most consistent and reliable spray performance possible.