Improved HARDI sprayer services for NZ
16/08/2019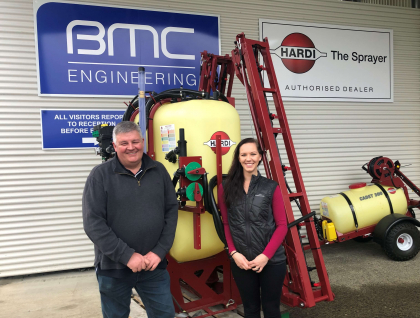 HARDI New Zealand today announced Spray Parts Ltd as a new local wholesale distributor for New Zealand dealers.
This arrangement will bring substantial benefits to local HARDI Dealers and farmers. Having a wholesale distributor in the country will greatly reduce lead times and freight costs, helping Kiwi operators to save money and get back to spraying sooner.
Spray Parts Ltd is a new subsidiary of Produce Engineering Ltd (trading as BMC Engineering).
Based in Pukekohe, BMC Engineering has earned a reputation for Kiwi ingenuity by building solutions to a wide range of needs – from tractor attachments to harvesting and Packing equipment.
Effective from September 1st, 2019, HARDI will ship inventory directly to BMC, which will then assemble, test and dispatch the sprayers to dealers. Spray Parts will also maintain a comprehensive parts inventory in its warehouse, to provide faster dealer parts support.
Dealers will purchase directly from Spray Parts Ltd, meaning transactions can be completed entirely within the NZ banking system and in NZ dollars.
BMC Engineering will also become a retail HARDI Dealer, providing HARDI's world class spraying equipment to Pukekohe's significant agriculture industry. BMC Engineering's Director, Todd Forsyth said he was excited about the partnership's potential as the two businesses have a shared vision and strong synergies.
Mr Bill Franklin, CEO of HARDI Australia and New Zealand, is looking forward to the partnership between HARDI, BMC Engineering and local farmers.
"Pukekohe is often referred to as the vegetable bowl of Auckland and is an extremely important growing area," he said. "HARDI is delighted to have Todd and his team on board as a dealer and distributor in this critical location."