HARDI back behind rural wellbeing rally
19/03/2019
HARDI Australia is once again proud to announce its support of the 2019 Beyond Bitumen rally, which raises money for mental health charity Beyond Blue.
HARDI will provide direct backing to a team led by Qantas Airbus A330 First Officer Andrew Edwards in his bright red 1972 Datsun 1600 – known as 'the HARDI DATTO'. The company will also offer support through a network of local dealers, who are based in many of the towns that Beyond Bitumen will visit.
This year these will include AgLand in Cootamundra, Intersales in Temora, Total Ag in Wagga Wagga, South West Tractors at Young and Carruthers Machinery in Cowra.
Taken together, HARDI and HARDI Dealers help provide the HARDI DATTO team with a network of contacts that makes their run possible – and helps boost their fundraising efforts.
Joining Andrew Edwards for this year's run will be Qantas A330 Captain Carl Seaver and his wife Carlu, who works as an interiors and food stylist; plus freight forwarder Andrew Hurt and his wife Edith, who has worked for Beyond Blue and remains in the not-for-profit sector.
All five team members share a love of driving, fundraising and being in the bush – making Beyond Bitumen their ideal cause.
The 2018 Beyond Bitumen rally visited numerous towns across the NSW Western Slopes and raised over $400,000 for Beyond Blue. However, the event's decade-long success is about more than money. Whenever the rally rolls into town, it helps to raise awareness – and, importantly, acceptance – of anxiety and depression in the surrounding community.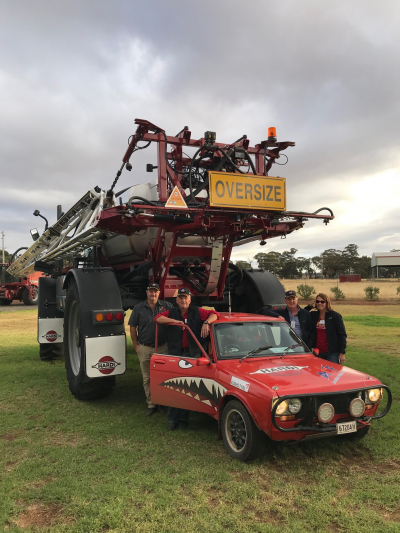 While HARDI's everyday contribution to the rural economy is based on safe and effective crop protection, the company knows it is essential to support farmers too. Getting behind Beyond Bitumen lets the brand and its dealers show their commitment to the people who grow Australia's food.
Farming is a naturally challenging and often lonely business, making farmers and their families especially vulnerable to mental health pressures. With the added stress of drought conditions prevailing in NSW, Beyond Blue is a vital response to a continuing crisis in the bush.
HARDI Australia commends all the teams entered in the 2019 Beyond Bitumen rally, and urges all Australian to help make this year's event the most successful yet.
For more about Beyond Bitumen and the HARDI Datto team, visit Beyond Bitumen .
For information about anxiety, depression and suicide prevention visit www.beyondblue.org.au. For advice and support, contact the Beyond Blue Support Service on 1300 22 4636 or online at www.beyondblue.org.au/getsupport