HARDI Australia adds Agrifac sprayers to its portfolio
17/12/2018
Adelaide-based sprayer specialist HARDI Australia today announced that it is adding Agrifac sprayers to its product offering.
Part of the same EXEL Industries Group as HARDI, Agrifac was introduced to Australia in 2011 and has quickly established itself as a premium brand.
Under the new arrangement, Agrifac sprayers will be supported by HARDI Australia's extensive local infrastructure. This includes its warehouse, distribution, parts, IT and administration facilities at Cavan, S.A.
HARDI Australia CEO Bill Franklin says the new alliance is intended to benefit Agrifac owners in particular, with greatly enhanced logistical support across Australia and New Zealand.
"We have a very well-established parts and supply chain infrastructure here in South Australia," he said, "along with agriculture-specific administration, accounting and marketing services."
"Ultimately the move will enhance the customer experience across both EXEL brands which is an extremely positive thing."
Mr Franklin confirmed that HARDI Australia is equally focused on both brands.
"We will soon appoint a dedicated Adelaide-based Sales Manager to drive our Agrifac business," he said. "Both brands are positioned in quite different market space and, internally, we don't see any conflict between them."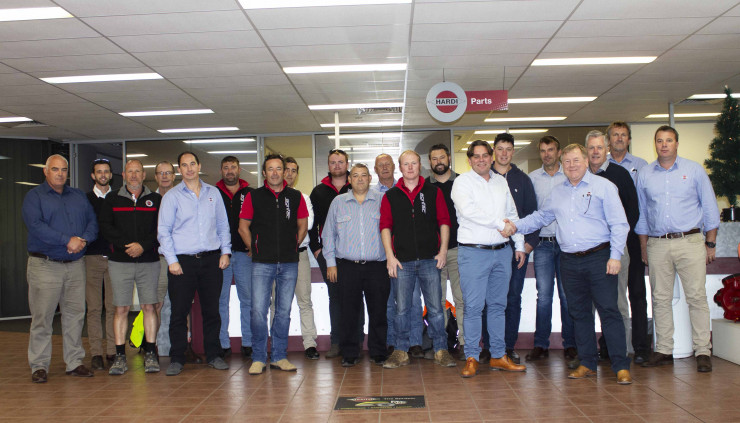 Mr. Roeland Coopman, CCO of Agrifac is excited about the cooperation.
"This cooperation supports Agrifac's ambition of becoming the number one Self Propelled Sprayer Brand in the Australian premium market sector. Since the introduction in 2011, Agrifac had strong sales growth in all years. 2018 was again a record year for Agrifac. With the support of HARDI Australia we are able to further boost our growth for the years to come in a sustainable way and ensuring Premium Customer Experience."
Agrifac sprayers are manufactured and assembled in the Netherlands, while HARDI sprayers are substantially manufactured and assembled at HARDI's Cavan site in S.A.
"HARDI and Agrifac sprayers offer different things to customers," Mr Franklin said. "Having both represented by HARDI Australia is intended to deliver synergies on the business and support side."
"We are all part of the same Group," he explained. "However Australian farming is vastly different to Europe. As the dominant EXEL brand in the Australian market it was logical that the Group leverage HARDI's assets and resources for the benefit of both brands' customers."
"There will be no immediate changes to how each brand is marketed, however we will be exploring synergies which potentially deliver value to customers in the future."
"Whether a farmer chooses an Agrifac or HARDI sprayer, we will help them optimise productivity through timely and efficient logistics," he concluded.
"Our goal is simply to help Australian farmers protect their crops efficiently and produce quality food."